Thank you for stopping by to learn more about how to design your website and sales funnel.
Did you know 80% of new customers will go to your website before doing business with you?
Did you know that of those who visit your site, 93% will then check your reviews on Google?
If you were a visitor to your website, would you like the experience and be able to find everything you want or need?
Does your site need a facelift or do you have a new product or service that you'd like featured on your site?
Maybe your customers would like to shop for your products or services on your website but you don't have a good eCommerce solution?
Maybe, just maybe, you've tried one of those DIY websites and simply have given up or just don't know how to make it wow your clients?
You know how important web presence is for your business and with everyone using smartphones, you know more than ever that your website needs to be mobile responsive.
Rather than share all sorts of facts about what we do and how we do it, we'll let you enjoy looking through our gallery of websites. They are shown in three different groups. The first is our multiple page sites which feature a variety of software applications to make each unique. The second set of sites are our eCommerce sites which can range from the typical retail products to those with services. And, last but certainly not least, our Landing and Sales Funnel page builds which offer those businesses who want to feature single products or are just getting started with just what they need.
OUR MULTIPLE PAGE WEBSITES
Grim's Orchard & Family Farms
VISIT THEIR CUSTOM WEBSITE NOW
This family-friendly and fun design incorporates a bit of the farm into the digital space.
Having the weather forecast as part of the site provides visitors with a quick look at the local weather. A MUST HAVE for this popular agri-entertainment business who draws people from neighboring states.
Ticketing integration is also a must.
Are you looking for either one of these for your website?
---
Senior Benefits Specialist
VISIT THEIR CUSTOM WEBSITE NOW
Senior Benefits Specialist helps with retirement planning at any stage of life planning.
Although not apparent when looking, the content on this site meets financial compliance standards.
Videos throughout provide visitors with a combination of easy-to-read content to learn about the subject being presented.
---
Edge Self Storage
VISIT THEIR CUSTOM WEBSITE NOW
As a climate control self storage business, Edge Self Storage needed the ability to show the details about each site unit. They are able to provide this through an integration system people can reserve the type of unit they would like.
Should you be interested in adding this to your website, let us know.
---
Genesius Theatre
VISIT THEIR CUSTOM WEBSITE NOW
Genesius Theatre is a non-profit theatre that brings the ability for live shows to be performed in Berks County PA. The ticker on the home page provide those visiting the site with a quick read of what's happening at Genesius Theatre. Donations are part of what keeps Genesius Theatre thriving. It's important to have a secure portal for people to donate. Purchasing tickets is key for all of their shows as well. Use Genesius Theatre as an example to share with us as we build out your site together.
---
Cool Vet
VISIT THEIR CUSTOM WEBSITE NOW
Cool Vet offers major surgery services for pets throughout PA, NJ and MD traveling to their clients.
The site provides pre-op and post-op instructions for their patients along with information about a variety of ailments. Visitors coming to the site provide a limited amount of contact information, making them feel comfortable to share, yet, the little bit of information provides CoolVet with what they need to stay in touch with their right-fit client. It's an opt-in system to their email newsletter system.
---
VP Machine, LLC
VISIT THEIR CUSTOM WEBSITE NOW
VP Machine, LLC provides businesses and individuals with custom machined parts for that one-time quality part. This website design is simple to navigate with a beautiful color palette.
Scroll to the bottom of each of their pages to see the keyword-rich paragraph which highlights all the keywords needed for their site to be easily discovered. This paragraph supports their Search Engine Optimization.
Love the "Rate Our Service" link on the website? It leads right to their Google Review page. Ingenious!
Do you need something like that for your site?
---
KMB Homes
VISIT THEIR CUSTOM WEBSITE NOW
Don't let your own home stall your plans…
Just like KMB Homes encourages homeowners to move forward with them to remodel their home, we, too, are here to move forward with your website build. Their site has a warm, homey color palette. Another point we want to share with you is that every website we build is ADA compliant down to the privacy policy page and the popup to mention that the website is collecting their information.
Is ADA compliance important to you?
---
Frederick Metal Fabrication
VISIT THEIR CUSTOM WEBSITE NOW
Beautiful work is how we want to describe Frederick Metal Fabrication. They are a full-service metal fabricator.
All the photos shown on their site are of their quality workmanship. We encourage our clients to use their own photos and help to make certain the size and quality are there for use on their websites. Should they not have their own photos, we discourage the use of photos taken from Google and instead provide our clients with photographs from a commercial platform that provides high-quality licensed stock photos, graphics, and illustrations.
Do you want to learn more about the does and don't of photos on the internet? Check out this article entitled "Why you shouldn't just take a photo from a Google search".
---
 A Stone's Throw, LLC
VISIT THEIR CUSTOM WEBSITE NOW
Talk about beautiful photography, by working with Jason, owner of A Stone's Throw on the how-tos in taking stunning photos with his smartphone, he has created beautiful photos to showcase their workmanship.
The timelapse video was created on the recommendations of our team to show those coming to the site a snapshot of their workmanship in only 4 minutes. Once they created the video, again using their smartphone, our team edited the video by splicing and adding appropriate music. No words were added to this video because it was very obvious what was happening.
Interested in adding video to your site? Keep this in mind.
---
Dave Zerbe Studio of Photography
VISIT THEIR CUSTOM WEBSITE NOW
Classic, elegant, beautiful, that applies to both how we feel about how this website design turned out, as well as Dave Zerbe Studio's gorgeous photography skills!
With the necessary training to make changes to the site, Chad's staff is able to add photos to their website immediately following a special event.
Interested in learning how to make changes to your website? We provide training.
---
 WK & S
VISIT THEIR CUSTOM WEBSITE NOW
Wanamaker Kempton & Southern Railroad boasts three and a half miles of tracks, and tons of events like the Wine and Cheese Train, holiday events, and can also be booked for special parties. We bring of nostalgia with the automated countdown to each and every train ride.
Easy integration to a third-party ticketing system provides visitors with ease of use and security while keeping WK&S from issues with compliance.
Has this been an issue for your organization?
---
Davidson Keen Electrical Contractors
VISIT THEIR CUSTOM WEBSITE NOW
Davidson Keen is your one-stop shop for everything electrical.
Their website does an excellent job of being found through search engine optimization. Their simple contact form provides potential clients with a way to explain their needs and quick response from the staff of Davidson Keen.
Setting up their branded emails using Google Workspace provides that immediate notification from the site.
---
You Evolving NOW
VISIT THEIR CUSTOM WEBSITE NOW
The creator, Andre Young, is a very motivated individual and had previously made a pre-built website design. He's one of our DYI.
Since working with us, we has moved the site away from a club environment and to a self-improvement program for management and their teams. He promotes his book and podcast as well. Every post he adds to the site is delivered to his following through an automated text messaging program by using Google Play and Apple Store.
Interested in creating an app for your website or maybe how our bot can deliver the content of your site.
---
Good Life Financial Group of Wyomissing
VISIT THEIR CUSTOM WEBSITE NOW
We turned her static webpage which needed a very necessary facelift into a mobile-friendly and easy to use beauty, all while keeping very close to her original look.
---
Rothenberger Insurance Services
VISIT THEIR CUSTOM WEBSITE NOW
RISQuote.com came to us with a tired website ready for a facelift. By adding blogs for their insurance tips and in the news section, their site can be easily discovered on the first page of Google for most of the major insurance products and services they offer. No need to spend money on Google Ads when they invest in search engine optimization for their website for organic reach.
Does your website need help to be found on Google?
---
Kay Pool and Spa
VISIT THEIR CUSTOM WEBSITE NOW
Inviting, pleasing, and informative, that is how we describe the website for Kay Pool and Spa.
Customers appreciate the ease of use to pay for their services.
Do you need a payment system from your website for your business?
---
A. Mazzo Accounting Services
VISIT THEIR CUSTOM WEBSITE NOW
You are in excellent hands with Tony Mazzo. You are his number one priority, and he is always committed to the highest standards of ethics and customer service. "The only things certain in life are death and taxes…"
---
Wagner Auction Services
VISIT THEIR CUSTOM WEBSITE NOW
Wagner Auction Service auctions range from real estate auctions, antique auctions, equipment liquidation auctions, military memorabilia auctions, estate auctions and more. Their easy to use auction calendar tells you exactly what's coming up in the month. Check them out!
---
Kelchner Cleaners
VISIT THEIR CUSTOM WEBSITE NOW
Kelchner has been providing dry cleaning elegance since 1945! They provide wedding dress preservation, coin laundry and dry cleaning services. We kept their website clean, simple and beautiful, like the cloths and dresses they clean and preserve.
---
Window Mania
VISIT THEIR CUSTOM WEBSITE NOW
Family owned and operated, Window Mania performs excellent quality workmanship and superior window and door products. No Subcontractors. Deal directly with the Owner! Check them out for all of your window and door needs.
---
Collinson
VISIT THEIR CUSTOM WEBSITE NOW
In addition to a long history of exceptional performance for the construction and maintenance departments of state highway and transportation departments, Collinson, Inc. is a leading contractor for industrial, commercial, and residential construction projects.
---
Red Plate Diner
VISIT THEIR CUSTOM WEBSITE NOW
The Red Plate Diner is a family-owned and operated restaurant that offers made-to-order meals, delicious daily specials, and a sparkling clean atmosphere.They have great special promotions and even a birthday meal! Go check them out!
---
Advocate Insurance
VISIT THEIR CUSTOM WEBSITE NOW
Advocate Insurance, a division of Rothenberger Insurance Services, offers more than just insurance. They have experience in safety risk management and employee productivity fields. Learn more about everything they offer.
---
European Builders
VISIT THEIR CUSTOM WEBSITE NOW
European Builders are Berks County Builders who provide custom built homes and renovations for families and individuals around the Berks County area. They have many awards to show off their ability of fine building.
---
Watkins Architect
VISIT THEIR CUSTOM WEBSITE NOW
This beautiful website showcases some of the projects Watkins Architect have designed. One look around this website and you know they truly care about their work. They are conveniently located in Fleetwood, PA. Check out their portfolio to see some of their past work.
---
Seasons of Life OBGYN
VISIT THEIR CUSTOM WEBSITE NOW
Seasons of Life OBGYN is a full service Obstetrics & Gynecology that can help you at any age. They are located in Allentown, PA. Check out their beautiful website.
---
The Old Time Plow Boys Club
VISIT THEIR CUSTOM WEBSITE NOW
Want to know about tractors new and old? This is the club for you! They hold events as well as set up at festivals to showcase their tractors and provide individuals with their knowledge. Want to learn more about the club or maybe even join? Check out their website.
---
Clare of Assisi House
VISIT THEIR CUSTOM WEBSITE NOW
Clare of Assisi House is a non-profit transitional housing for non violent women coming out of correctional facilities. Clare of Assisi House first started with a one-page website and has since grown to a multiple page website as they grew.
---
OUR GALLERY OF ECOMMERCE WEBSITES
Swerl Designs LLC
VISIT THEIR CUSTOM WEBSITE NOW
Swerl Designs is a sister company of A Stone's Throw and offers a wide variety of unique home decor and furniture items. They recently opened up a storefront on Penn Avenue in West Reading, PA, but has the ability to sell their epoxy items throughout the United States.
---
Pure Wild Tea
VISIT THEIR CUSTOM WEBSITE NOW
With a tea this good you need to have a website that features it with honor! That is what you will find on Pure Wild Tea's website. Made with locally grown mint, they take pride in the finished product and their customer service. If you haven't tried this tea yet, it's a must!
OUR LANDING PAGE & SALES FUNNLE WEBSITES
Berks County Chiropractic Services
VISIT THEIR CUSTOM WEBSITE NOW
Don't muddle through the pain, go and see Dr. Sean and his friendly staff. Their single page website is a clean look through their chiropractic services. Blue, green and soothing tones are just like their office.
---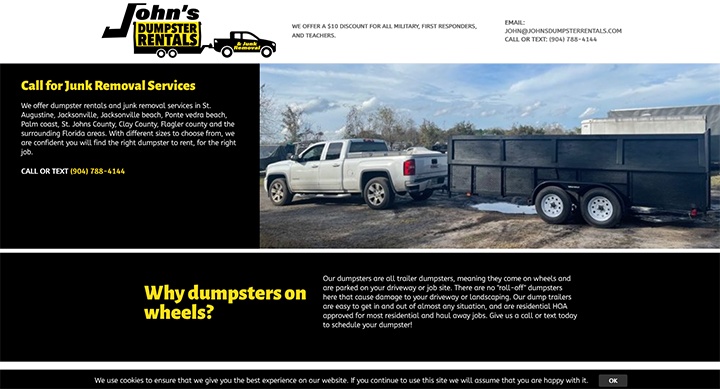 John's Dumpster Rentals

VISIT THEIR CUSTOM WEBSITE NOW
John's Dumpster Rentals offers dumpster rentals and junk removal services throughout St. Augustine and the surrounding Florida areas. With different sizes to choose from, they are confident you will find the right dumpster to rent, for the right job.
---
Seasons of Life Coaching
VISIT THEIR CUSTOM WEBSITE NOW
Seasons of Life Coaching offers Professional Life Coaching. They offer this through holistic approach to mental and emotional wellness. Head over to their website to learn more about "The Anxiety Coach."
---
Berks County Home Sales
VISIT THEIR CUSTOM WEBSITE NOW
Berks County Home Sales is a landing page created for The Dave Mattes Team from RE/MAX of Reading. They provide real estate services for individuals and families looking to buy or sell a home throughout Berks County PA.
---
Reinhart Barn Weddings
VISIT THEIR CUSTOM WEBSITE NOW
Reinhart Barn Weddings offers a unique and beautiful venue for weddings and events. The barn is located at the Reinhart Tree Farm in Bernville PA.
---
TrueLine
VISIT THEIR CUSTOM WEBSITE NOW
True Line Agency, LLC is the best source around for healthcare services, annuities, dental and vision care, and life insurance services. Steve's motto is, "If you want someone to gamble with your money, I'm not your guy."
Looking forward to working with you …
We make it a habit to integrate the latest trends and technology available when we work with you to build your website. And, just in case you are wondering, we not only build it but also maintain your website with our Monthly Optimization Plan! This plan takes care of keeping your website up-to-date and gets you to the first page of Google.
Ready to get started? Let's sit down with you virtually or in-person and discuss your needs, ideas, and what you have been imagining your site to look like.