When you think of work your mind may wander to the idea of attending your job and being productive and getting many things done on that never-ending lists of goals to fulfill. Although, some people think being productive can't include having a bit of fun! Because of that notion, Fun at Work Day was created on January 28th. This day is made for people to have more laughs and smiles at work on this very special day, even if it may decrease productivity a tiny bit.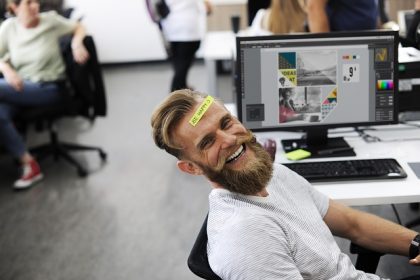 Before attempting to brighten up the work environment, please check with your boss so they can allow it or even join in on the fun! Depending on your work environment, there's many ways you can add more enjoyment to the workplace.
A big way to lighten up your workplace is by jamming some music or bringing some headphones in for your own enjoyment. Not only does music help people's moods, it can also increase productivity at times because music helps people stay on task and blocks surrounding distractions.
If you have minimal work on your plate, or have a lunch break, take a little time and spruce up and decorate your work space if possible. Places such as offices, cubicles, or storage area's like lockers may look stale at times with their plain old boring look, not only decorating it on "Have Fun at Work Day" will be a blast, but you'll be able to come back in the next day for a cleaner and happier space for yourself!
Lastly, an idea that can be found in places from fast food restaurants to office buildings in New York City is the idea of a community board. Mainly, each employee will have their own note on there that states his or her goals, whether it be a weekly goal or a yearly goal. No matter how big or small the goal, coworkers can support each other and add new ideas to the board, whether it be pictures, quotes, or funny gimmicks!
The great thing about "Fun at Work Day" is not only the idea of being able to have more fun at the worksite, but also the fact that many of these ideas, if successful, can hopefully be used daily! It may be a day on paper, but to the companies, organizations, and others who could use a boost at work, this is a great opportunity to introduce new ideas into your environment and provide a brighter outlook on what work really is.